I didn't get to see all of the Golden Globes last night, unfortunately, but what I saw was okay. Obviously the red carpet was way more interesting to me than the actual show, so that's really the only part I was SERIOUS about watching. So it stands to reason that during that time Jacob would call down to me about every three minutes, which was kind of driving me insane. So I may have missed a few people, but from what I saw, here were my favorites and least favorites from the red carpet this year:
Best Dressed:
5. Emily Blunt--I so completely adored this dress. I don't think she walked the red carpet, so for that reason alone, I'm putting her at #5 since I can't see the back of the dress.
4. Claire Danes--If I was a stick thin celebrity, I totally would have worn this. The hair isn't my favorite, but I couldn't take my eyes of of this dress.
3. Charlize Theron--I'm not normally one for a hip flounce of any kind, let alone a giant one with bejewels, but you can't deny she looks like a baller. Oh, to have some South African dancer-genes.
2. Emma Stone--I've got what may be considered a girl crush on Emma Stone. I guarantee that somewhere in her home/crack den, Lindsay Lohan is constantly burning her Emma Stone effigy. I can't even express how much I love this Lanvin dress. Even though I hated the belt when I first saw it, it makes sense for the designer, and I don't mind it so much now.
1. Viola Davis--Girlfriend brought it. She always looks amazing on the red carpet because she sticks to solids and picks these incredible colors that pop so well with her skin tone. Head to toe, she looks so incredible here. She definitely showed a lot of younger women how it's done.
BONUS: I couldn't think of anyone to cut from my list of favorites, so I'm including one extra in my top five. Evan Rachel Wood. What is there to say? The girl is a freakin diva.
Worst Dressed:
5. Freida Pinto--This PAINS me to write, because I think she's truly one of the most beautiful women on the planet. If you had asked me before this, I would have said she can do no wrong, but unfortunately that's not true....This dress just is so hideously unflattering. It makes her look boxy from the front, and from the back it looked like one of the ugly stepsisters. UGH. I'm sorry, Freida. Please don't ever make me do that again.
4. Piper Perabo--This almost isn't worth mentioning to me because I can't imagine she thought this dress looked good or fashionable. Surely she and her stylist just decided this would be a great way to get some press, right?
3. Lea Michele--OY. I'm not sure why Lea fights so hard to wear dresses for someone older than her. I'm also not sure why she loves Marchesa so much. I know I don't (except for
this
this
and
this
). Honey, people can still take you for a serious actress if you dress your age. You don't have to serve up the crazy posing
and
try to look like Sandra Bullock. You work hard, and you can get that Oscar someday, too!
(you won't though)
Just for comparisons sake: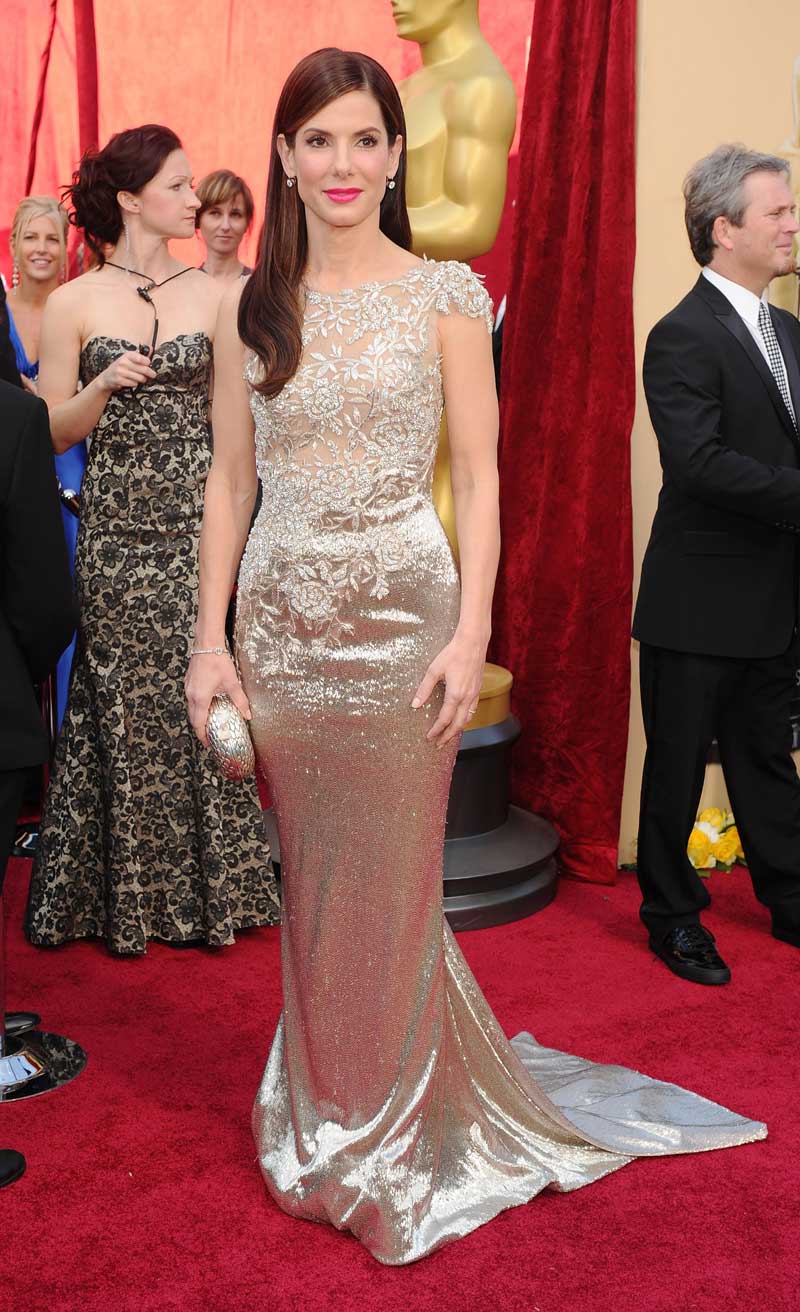 2. Dianna Agron--This girl tries so hard to be unconventionally beautiful and it does not work. Sister, let me tell you something--you're a blond hair, blue eyed 20 something with an obnoxiously sugary voice. Stick with the traditional looks and you'll be just fine. Also, this is her second time on my worst dressed list...if I were her, I'd take that as a real wake up call.
1. Madonna--Gross. That's really all I can say about her. This whole look is wrong to me. I mean, I realize I'm biased because I hate her and how far up her own butt she is, but this look just is terrible. Also the workout glove phase she's going through? Yeah, everyone is seeing right through that. We know your hands are super veiny, Madonna. But unless you're going to wear sleeves to also hide your Gollum arms, just go ahead and leave your weightlifting gloves at home while wearing couture gowns.
Well I would LOVE to tell y'all about the awkward things that happened today in my new employee orientation that I was in from 9-4, but since I was forwarded the company's policy on social media three different times, I'll just keep my mouth shut. This is going to be very difficult not to relate work stories, but MESSAGE RECEIVED, HR. Surely they didn't send that to me because they found my blog right?! I keep telling myself it's just because of my department and my age, but...alas, I must stop writing about work.
Something work related that I CAN talk about is the weight loss competition some of us signed up to do. So there are like10-15 of us doing The Biggest Loser, and we each had to put $20 in for the winner, so I'm using it to motivate me to stay in shape these next few months. When I went upstairs to be weighed today, I saw that I had gained two pounds since last weeks weigh in...yikes... Probably has something to do with those three cookies I ate during orientation. No one tell Hannah I may be too fat to fit in my bridesmaids dress this weekend. (It's fine, she's got too much going on this week to read this nonsense.)
I can't even tell you how happy I am to have tv again. Since I use my time and brain wisely, I've already watched three episodes of Real Housewives of Beverly Hills. I missed you, DirecTv!!!!!
Yesterday I was running all around town trying to find shoes to wear for the wedding this weekend, and unfortunately I was unsuccessful (don't tell Hannah that, either), but I managed to score some sweet boots from the Ol Dusty Rose (Herbergers, of course). Both pairs were only $20 each, so naturally I had to snag them. For some reason the grey ones look super pirate-y in this picture, but they're not like that in person, I promise.
It is so cold here, you guys. I mean, crazy cold. Tonight it was 1 degree when I was coming home from the gym. I just came in from taking the dogs out, and I don't even want to know what the temperature was. It's gotta be like -5 or so. [EDIT: IT'S -7] The high Wednesday is supposed to be -1. Poor Oscar needs a coat for real. He's just not meant to be a cold weather puppy. This cold has me craving warm, hearty meals (perhaps another reason for the extra 2lbs). Tonight I made 2 new recipes. One was just a combo of roasted veggies; carrots, sweet potatoes, red potatoes, butternut squash, and parsnips. The other was a new homemade meatball recipe that I made with spaghetti. Both were total dudes and not worth the time or effort. Guess I'll stick to my other meatball recipe and just do roasted green beans or zucchini. Blerg.