Well I'm super exhausted and for some reason my inner ear has swollen up so much that I can no longer fit a q-tip in, so I'll make this brief. Tonight for dinner, I made a recipe I got from Dana, Tomato Tortellini Soup, and it was SUPERB. It's in the low 20's right now, and this soup was the PERFECT thing to eat. I have been looking for a really good soup recipe lately, and this will definitely be in my rotation from now on. AND, the whole thing took like 20 minutes, so in my mind, it's the greatest meal ever. If you're cold, and you love soup, I definitely recommend it. Go
here
for the recipe.
For my job, they require my immunization records, so I've been trying to track those down for the last couple of days. Talking to my mom, I realized it had been more than ten years since my last tetanus shot, so I have been trying to figure out how to go about getting one. I called both of the doctors offices in town that are covered by our insurance, and both refused to give me the shot because they said that I had to be seen by one of the doctors before they would allow me to get the shot. Note to fellow Dickinsonites (Dickinsoners? Dickinsonians?), if you happen to fall on a rusty chainsaw, step on an old nail, or run through barbed wire, you're out of luck, because the doctors just aren't quite sure if you should get that tetanus shot. When I asked the lady at one of the offices how I could go about getting the shot, she referred me to the Southwest District Health Unit, which to me sounds made up. All she said was "well, we can't give you the shot, and I don't think anyone else in town will, either. So...I'm not sure if they will do that, but it's worth a try." I googled the SDHU to get their phone number and ended up on their website which seemed a little vague to me. When I called to see if they'd give me the shot, the old lady on the phone seemed very confused by the question and told me to call back in the morning. The next morning (today), when I called, I spoke with the old lady again, and went through the situation again. She was confused, but told me to come in between 11:30-11:45. I asked if I needed to pay up front for the shot, or if they'd take my insurance, and she was like "oh sure, we take insurance, yep." But she never asked me what insurance we had, so that was a little confusing. When I googled the location so I knew how to get there this morning, I realized they were directly behind the building across the street from us-the one with the big garage and the metal things. They were also right next to the Dakota Sew & So and the Crop Insurance Company, so I knew it was a good location. When I pulled up to the building, it was....pretty ghetto. I walked in and approached my old lady friend from the phone, and said "I talked to you earlier, I'm here to get a tetanus shot." Rather than speak, she just pointed ahead of her with glassy eyes like E.T.
Off topic--Has anyone else ever noticed that it looks like E.T. wears a coconut bra? But back to the clinic--I looked in the direction she pointed at and saw a lady in another office. "Over there? Do I need to go over there?" She just continued to point rather than answer me, so I just walked across the office to the other lady and told her I needed a tetanus shot. E.T. clearly hadn't communicated any of this with the other lady, so I had to run through the whole story again to her. We got it sorted out, though, and next thing I knew, she was telling me to relax so she could do the shot. Thankfully, I don't have a phobia of shots like I do with getting my blood taken, so I was able to endure the shot with dry eyes and no hyperventilating. Hooray! After the shot, the lady told me that if I wanted to make a donation of $13.99 to pay for the shot, that would be great, but otherwise I was done. I asked if I could do that with a credit card, but she told me they don't have a credit card machine. She was like "oh, no, don't worry about it. If you're ever driving around and think about it, that's great, otherwise you're all set." Let me be clear. At NO POINT did they ever ask to get insurance information from me. What makes me more confused is what it says on their website: "As of March 31, 2008 Southwest District Health Unit will be able to bill private insurance for immunizations.
Please bring your insurance cards for any insurance to be billed and your policy information with you to your appointment.
" So, having read all that, how did I end up with a free tetanus shot? I really and truly don't get it. I'll be honest, if this is what it will be like with Obama-care, SIGN ME UP.
Herbergers is having a crazy huge sale this weekend, and they had a bunch of boots on sale for $19.97, so obviously I had to buy a pair. So here's my dilemma-Dana, you've heard all this-when I tried the boots on, I thought they were cute, but I was a little bit worried that when my pants can't be tucked into them, and all you can see are the bottoms, they look a little like cowboy boots. That freaked me out. I convinced myself they were cute though, and I couldn't pass up the deal, so I bought them. When I got home, I was searching the website for a picture to send Dana, and the website describes them as "western-inspired." UGH. That is NOT the look I'm going for. What do you guys think? Keep or return?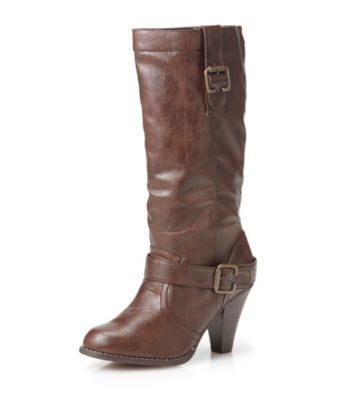 And be honest-it won't hurt my feelings.
Tomorrow night is Jacob's office party. I'm still not sure what I'm going to do about that dress. I do have a backup dress I could use (minus the belt and flower)-
It's not super dressy, but it's pretty cute. The problem with this dress is that I've only worn it once, to Barrett's rehearsal dinner, and the waitress wouldn't serve me champagne for the toast because she thought I was pregnant. So...looks like either dress option, people will assume I'm with child. So which one do you think I should wear? My neighbor offered for me to borrow one of her dresses, which, bless her, is very nice. However, she's like a size 2, so I'm pretty sure I can't borrow anything she owns. Besides the dress situation, I am kind of excited about the party. The company has rented transportation to pick people up and take them home so they don't have to drive after drinking, which is pretty baller. Not that we'll be drinking any more than probably one drink each, but it's nice to be shuttled around. I found out today that we've got a legit party bus coming to pick up us and our neighbors, so that's gonna be awesome. Apparently for the party last year, the party bus had a stripper pole in it. Here's hoping this bus doesn't have one. After living with KT, I think I'll be happy to never be around another stripper pole again. Unless it's to watch Tom hang upside-down. Dude's got skills.
Alright this ear situation is getting out of control. I didn't even know it was possible for your ear to get swollen shut.